<< Back
Pain/Inflammation Relief via Kinesiology Taping
- Friday, August 25, 2023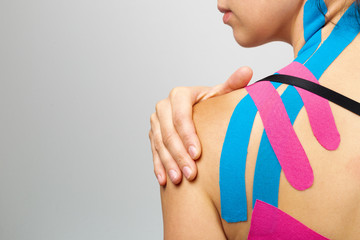 Somewhere along the way you've seen an athlete on TV or at the gym with black or multi-colored tape attached to various parts of their bodies. You've wondered what it is and what it is for but never stopped to ask. In this blog post, we provide a brief explanation of what kinesiology tape is and what it does for the body. Spoiler alert: The tape helps alleviate pain, inflammation, and other highly beneficial effects!
Kinesiology tape is made from an elastic cotton strip with medical grade adhesive backing. It is important to work with a professional trained in proper kinesiology taping technique. It is also known as Kinesio tape, KT tape, k-tape and elastic therapeutic tape. This tape is applied to the skin strategically depending on the purpose and goal of treatment.
Kinesiology taping is a therapeutic taping technique that will help alleviate pain and inflammation, stabilize joints and support muscles, ligaments, and tendons. It promotes good circulation and optimizes movement and performance. This is commonly used by athletes suffering from ankle instability. This is beneficial for an acute (fresh) knee injury by reducing swelling and altering pain perception. This instability is often caused by recurring spraining of the ankle, so that the ankle ligaments are stretched or torn, and the healing process is lengthy and slow. The kinesiology tape is used in the ankle for improved stability and support. During the treatment session, the therapist will assess your needs, evaluate your range of motion, identify areas of pain, and discuss any medical conditions. Then it is suggested to take the affected area to provide support and stability to the muscles and joints, while allowing full range of motion. Kinesiology tape will remain in place for several days. This is perfect for athletes such as runners, weightlifters, swimmers/divers as well as those suffering from arthritis, any tendinitis diagnosis or hypermobility.
Kinesiology taping improves range of motion, reduces pain, and promotes greater stability and support. It is an extremely effective rehabilitative and supportive treatment designed to facilitate the body's natural healing process while providing support and stability to the joints and muscles.
Ready to recover like the pros? Contact Chiropractic Family Wellness Center.