<< Back
Kinesiology Taping Can Help Hasten Recovery from Injury
- Tuesday, March 28, 2023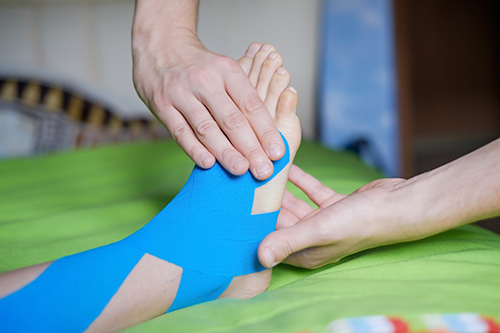 You've seen it on professional and amateur athletes alike. What first appears to be body ink or decoration, upon further review, is actually applied tape. What is that tape all about? Today we're here to answer that question because those athletes are enjoying an injury treatment offered right here at our Scarborough Chiropractic Family Wellness Center…. Kinesiology Taping.
Kinesiology taping is used to reduce pain and inflammation, improve joint stability, improve circulation, and stimulate healing. Kinesiology tape is a specialized form of tape which has elastic properties. It is designed to help support and stabilize muscles, joints, and ligaments without restricting range of motion.
Kinesiology taping is used to address a variety of conditions, from muscle strains and sprains to tendonitis and bursitis. The tape is applied in a specific way to provide support and stability, while still allowing full range of motion. It is often used in combination with other rehabilitative modalities, such as therapeutic exercise and massage.
Kinesiology Taping can help reduce swelling, inflammation, soreness, and pain. It can also be used to help improve posture and balance, as well as to improve circulation and reduce muscle fatigue. In addition, it can be used to reduce the risk of injury by providing additional support and stability.
Kinesiology Taping is a safe and effective form of rehabilitation for those dealing with injury. It is non-invasive and inexpensive, making it an attractive option for those who are on a budget. Want to learn more about it? Contact Scarborough's Chiropractic Family Wellness Center. You'll be glad you did.